3 "Magic Tricks" for Negotiating Salary in Your New Job
Resource Library November 16, 2015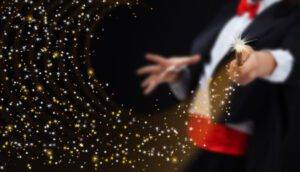 If you're not working through an executive headhunter, you should be prepared to negotiate a compensation package that accurately reflects your value. However, many candidates avoid negotiations because they are uncomfortable or unaware of their market value.
Don't be discouraged by the awkward conversation, set yourself up for long-term success and satisfaction with these 3 tips for negotiating the perfect compensation package for you:
1. Knowledge is Power
Research salary ranges with comparable companies for your job description. A good source is http://www.glassdoor.com; or, call our offices to get guidance. Legacy MedSearch subscribes to a service that benchmarks salaries based on years of experience, location and title. We provide these reports as a service to our clients to insure the salary is competitive.
Use online data such as www.Salary.com, coupled with location and cost of living tools such as the ones found here:https://legacymedsearch.com/relocation-tools/
Ask the Hiring Manager for the salary range of your new position;
Use your research to determine if your salary offer is competitive;
Negotiate your salary based on comparable figures;
Negotiate for benefits after the salary is agreed to
2.  Timing is Everything
 Immediately after the job offer and acceptance, ask about the benefits offered;
Make a list of what you want before the meeting;
Point out what you expect and the justification, then simply listen. Many Hiring Managers will make concessions acceptable to your needs. They have most likely gone through an extensive search, and they have an incentive to close the deal with you.
3. Get Creative, and avoid Waging War with a Counter
 Pick your battles carefully as companies do not appreciate the entirety of their compensation packages being attacked by potential new employees who have not necessarily proved their worth yet. Establish where they have room to negotiate and where there is a 'hard stop' on features of a compensation package.
Be aware of salary parity. If your potential new boss is making less money than you're negotiating for, this could be a non-starter. Be realistic in knowing that higher fixed costs – like salary – can effect a companies profitability; whereas variable compensation is tied to your individual profitability and the performance aspect may be more palatable.
If the Hiring Manager is unable to negotiate on salary and basic benefits, then you may consider asking for more vacation time, relocation assistance, signing bonus, and/or a performance bonus. And although these inclusions are typical of standard compensation packages which may be offered to everyone, add value to your individualized compensation by maximizing each offer to match your personal worth, ensuring you receive the utmost to realize your long-term career satisfaction.
If the salary is below your optimal range but the opportunity is otherwise perfect for you – ask for an expedited performance review in 6 months to evaluate a potential raise.  Or, set specific MBOs are milestones with a performance bonus attached for over achievement.
Paula Rutledge is the President of Legacy MedSearch and a 30 year veteran of the Medical Device Industry. She can be reached at Paula@LegacyMedSearch.com.
AUTHOR - Authorship Credit Noted Above
SHARE