3D Printed Bone Segments for Foot and Ankle Fixation Receive 510(k) Clearance
Orthopedics and Spine May 18, 2018
Additive Orthopaedics, LLC., the leader in 3D printed orthopaedic foot and ankle devices, today announced that is has received FDA 510(k) clearance for its Patient Specific 3D Printed Bone Segments, to address internal bone fixation in the ankle and foot.
According to Greg Kowalczyk, President of Additive Orthopaedics, "This is a tremendous milestone for orthopaedics and the obvious trend towards patient specific 3D printed implants.  In cases of implant revision, limb salvage, and trauma, often there are no clinically available devices to address the patient's condition.  This is where 3D printed patient specific implants are making significant clinical impacts."
According to Brian McLaughlin, VP of Engineering and Operations, "Our lattice structures are proving to be the next generation design as opposed to the older, more open, types of structures that rely on biologics for osteosynthesis.  In several patients, our lattice structures have shown close to 90% boney in-growth after 6 months using no biologics. We are excited to now offer these as patient specific solutions."
The Company has seen over 1000 devices implanted since their commercial launch in early 2017.   The Company has recently closed a Series B Round of $1M.
About Additive Orthopaedics, LLC.
Additive Orthopaedics is an early stage orthopaedic company focused on the integration of advanced manufacturing and biologics for the benefit of a better patient outcome.
Source: Additive Orthopaedics Announces FDA Clearance of their Patient Specific 3D Printed Bone Segments
---
News Provided by Additive Orthopaedics LLC
---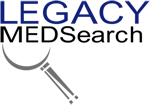 A Speciality Recruiting Firm Exclusively Servicing The Medical Device Industry
Legacy MedSearch has more than 30 years of combined experience recruiting in the medical device industry. We pride ourselves on our professionalism and ability to communicate quickly and honestly with all parties in the hiring process. Our clients include both blue-chip companies and innovative startups within the MedTech space. Over the past 10 years, we have built one of the strongest networks of device professionals ranging from sales, marketing, research & development, quality & regulatory, project management, field service, and clinical affairs.
We offer a variety of different solutions for hiring managers depending on the scope and scale of each individual search. We craft a personalized solution for each client and position with a focus on attracting the best possible talent in the shortest possible time frame.
Are you hiring?
Contact us to discuss partnering with Legacy MedSearch on your position.
AUTHOR - Authorship Credit Noted Above
SHARE