Medical device and MedTech insights, news, tips and more
7D Surgical Enters Into Key Distribution Agreements in the US for Its Breakthrough Image Guidance System for Spine Surgery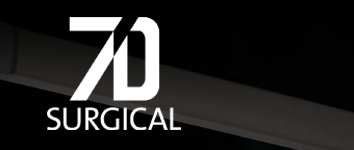 TORONTO, April 20, 2017 — 7D Surgical, developer of groundbreaking surgical navigation technologies, announced today that it has entered into exclusive sales representative agreements with two premier American medical device distributors covering key strategic geographies in the United States.  Surgical One Inc. will represent 7D Surgical in several states from the Midwest to the Gulf Coast, while DB Surgical will cover the southeast U.S., including the important medical device markets in Florida.
"Proven distribution partners, such as Surgical One and DB Surgical, will complement our direct sales force in the commercialization of the MvIGS technology for the execution of our rapid growth strategy," said Beau Standish, Chief Executive Officer of 7D Surgical.  "Both companies have the infrastructure, footprint and existing relationships that are required to effectively promote the benefits of 7D Surgical's fast, cost effective and radiation-free image-guided spine surgery to a large and underserved market."
The 7D Surgical System is the first and only Machine-Vision Image Guided Surgery (MvIGS) platform. For the first-time spine surgery, patients can be quickly, easily and automatically registered using only visible light and 7D Surgical's Flash RegistrationTM technology. Unlike time-consuming conventional image-guided surgery (IGS) systems that depend on intraoperative radiation, this new MvIGS platform can achieve an incredibly fast surgical workflow for spine procedures. 7D Surgical anticipates adding additional qualified distribution partners in coming months.
"When Surgical One learned about the new MvIGS system, we recognized immediately that the 7D Surgical technology had erased the traditional barriers to spinal image guidance adoption and the low utilization of existing alternatives," said Al Ludvigsen, President of Surgical One Inc. "We are thrilled to exclusively represent this fast, radiation-free solution for spinal image guidance to the clinicians and patients we support."
"While spinal image guidance had been shown in studies to reduce surgical complications, we have yet to see widespread adoption of existing technologies among spinal surgeons," said Debbie Burg, President of DB Surgical.  "We see the introduction of the 7D Surgical System MvIGS technology as a game-changer with the potential to finally expand the use of IGS in spine surgery."
About 7D Surgical
7D Surgical is a privately owned Toronto-based company that develops advanced optical technologies and machine vision-based registration algorithms to improve surgical workflow and patient care. 7D Surgical's flagship FDA 510(k)-cleared and Health Canada-approved MvIGS system delivers profound improvement to surgical workflows in spine surgery, providing the promise of similar future advancements in other surgical specialties.  www.7Dsurgical.com
Contact:
Beau Standish, CEO
7D Surgical
+1 647 484-0078
www.7Dsurgical.com
contact@7dsurgical.com
About Surgical One, Inc.
SurgicalOne, Inc. is the premier surgical specialty distribution company in the Midwest to Midsouth. Our 30 direct employees cover 10 total states, with sales representatives and service repair technicians in each major market. We represent the top tier, finest microsurgical, neurosurgical and spinal product manufacturers in the world. Since our founding in 2000, we have maintained a relentless, singular focus on patients, surgical clinicians, and medical facility administrators. Our ultimate goal is improved patient outcomes, combined with the highest level of clinician satisfaction. www.surgicalone.com
About DB Surgical
DB Surgical is dedicated to bringing transformational surgical technologies to hospitals and surgery centers. The company focuses on introducing tools that enable surgeons to advance patient outcomes beyond those available today. Since 1997, DB Surgical has worked with industry-leading surgeons to understand and meet the evolving needs of healthcare providers. The company is based in Coral Springs, FL and has 18 professionals located throughout Florida, Georgia, and Alabama focusing on the Neuro, Spine, ENT, Cardiovascular, Ophthalmic, and Plastic Reconstructive surgical disciplines. In addition to providing cutting-edge technologies, DB Surgical also offers a complete line of specialty surgical products designed to create value within the healthcare supply chain. www.DBSurgical.com.
Contact:
Phone: 954-340-2727
Fax: 954-340-1221
Email: sales@dbsurgical.com
Forward-looking Statements
This press release contains forward-looking statements regarding, among other things, statements pertaining to expectations, goals, plans, objectives, and future events. 7D Surgical intends such forward-looking statements to be covered by the safe harbor provisions for forward-looking statements contained in Section 21E of the Securities Exchange Act of 1934, and the Private Securities Reform Act of 1995. In some cases, forward-looking statements can be identified by the following words: "may," "can," "will," "could," "would," "should," "expect," "intend," "plan," "anticipate," "believe," "estimate," "predict," "project," "potential," "promise," "continue," "ongoing," or the negative of these terms or other comparable terminology, although not all forward-looking statements contain these words. These statements are based on the current estimates and assumptions of our management as of the date of this press release and are subject to risks, uncertainties, changes in circumstances, assumptions, and other factors that may cause actual results to differ materially from those indicated by forward-looking statements, many of which are beyond 7D Surgical's ability to control or predict. Given these uncertainties, undue reliance should not be placed on these forward-looking statements. 7D Surgical does not undertake any obligation to release publicly any updates or revisions to these forward-looking statements to reflect events or circumstances after the date of this press release or to reflect the occurrence of unanticipated events.
"Flash Registration™," as well as the "7D" logo, whether standing alone or in connection with the words "7D Surgical" are protected trademarks of 7D Surgical.
Read More at the Source: 7D Surgical Enters Into Key Distribution Agreements in the United States for Its Breakthrough Image Guidance System for Spine Surgery – 7D Surgical
Begin your legacy now. We are your medtech and medical device talent advisory firm.