Altus Spine: FDA Clearance of Titanium Interbody Fusion System
Orthopedics and Spine April 18, 2017
Altus Spine, based in West Chester, Pennsylvania, has announced the FDA clearance of the Silverstone Titanium Interbody Fusion (IBF) System, an implant meant to help stabilize and support the vertebrae during fusion.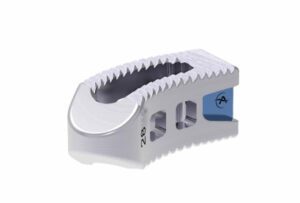 As indicated in the March 17, 2017 news release, "The Silverstone Titanium IBF System is a simple, yet comprehensive, system that includes both PLIF [posterior lumbar interbody fusion] and TLIF [transforaminal lumbar interbody fusion] implants, and supporting instrumentation. Introducing Altus Spine's MicroLOC technology, the Silverstone Titanium IBF System incorporates the latest combination of macro- and micro-endplate surface texture design. MicroLOC surface technology results in a proprietary, porous grip surface intended to provide an optimal environment for initial bone growth while minimizing the potential for implant migration."
"The Altus Spine Titanium Interbody Fusion System is indicated for use with autogenous bone graft in skeletally mature patients with degenerative disc disease ('DDD') at one or two contiguous spinal levels from L2-S1. DDD is defined as discogenic back pain with degeneration of the disc confirmed by history and radiographic studies. These patients should have had six months of non-operative treatment. These DDD patients may have had a previous non-fusion spinal surgery at the involved spinal level(s), and may have up to Grade 1 spondylolisthesis or retrolisthesis at the involved level(s)."
"The development of MicroLOC surface technology was in response to surgeon requests for implant surfaces that encourage better on-growth of bone," said Michael Fitzgerald, CEO and President of Altus Spine. "The Silverstone Titanium implant is the first implant to employ MicroLOC surface technology. The combination of easy implant insertion with the MicroLOC porous surface results in a state-of-the-art IBF implant."
Brian Bankoski, vice president of product development at Altus Spine, told OTW, "MicroLOC surface technology grows out of the long history of surface technologies used in joint arthoplasty. The micro-porous nature of the MicroLOC surface transfers this history into spine implant applications beginning with the Silverstone Ti Lumbar IBF System. With the Silverstone Ti Lumbar IBF System, MicroLOC technology is combined with other anti-migration features to provide an environment intended to reduce the potential for implant migration and encourage initial bone growth. For surgeons, this combination of micro- and macro-surface technologies provides a practical evolution in lumbar IBF cages about which they can feel confident."
See More at the Source: Altus Spine: FDA Clearance of Titanium Interbody Fusion System | Orthopedics This Week
Elizabeth Hofheinz, M.P.H., M.Ed.
AUTHOR - Authorship Credit Noted Above
SHARE