Medical device and MedTech insights, news, tips and more
Battery-Free Implantable Medical Devices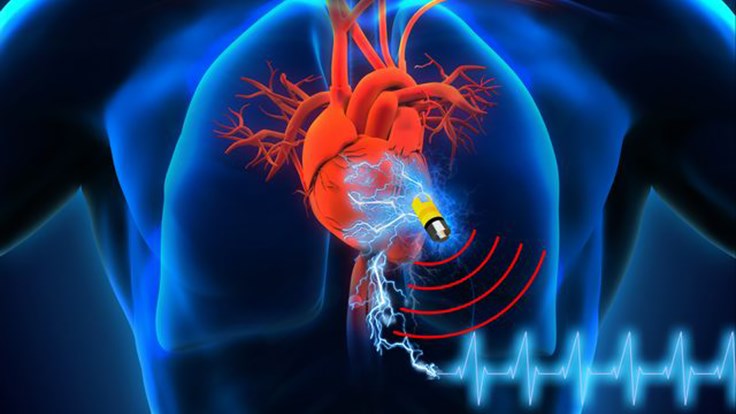 The supercapacitor invented by researchers from UCLA and the University of Connecticut could lead to pacemakers and other implantable medical devices that last a lifetime. Photo credit: Islam Mosa/University of Connecticut and Maher El-Kady/UCLA
Researchers from UCLA and the University of Connecticut have designed a biofriendly energy storage system – a biological supercapacitor – which operates using charged particles, or ions, from fluids in the human body. The device is harmless to the body's biological systems, and it could lead to longer-lasting cardiac pacemakers and other implantable medical devices.
The UCLA team was led by Richard Kaner and Connecticut researchers were led by James Rusling.
Pacemakers, powered by traditional batteries, eventually run out of power and must be replaced – another surgery and risk of infection – and batteries contain toxic materials that could endanger the patient if they leak. So, researchers propose storing energy in devices without a battery. The supercapacitor they invented charges using electrolytes from biological fluids and, it would work with another device called an energy harvester, which converts heat and motion from the human body into electricity that is captured by the supercapacitor.
"Combining energy harvesters with supercapacitors can provide endless power for lifelong implantable devices that may never need to be replaced," says Maher El-Kady, a UCLA postdoctoral researcher and a co-author of the study.
Research and development is steady in supercapcitor design and use in wearable medical device and for implantables. Past articles on Today's Medical Developments include:
Today's pacemakers are about 6mm to 8mm thick, and about the same diameter as a 50-cent coin. The supercapacitor is only 1µm thick and can maintain its performance for a long time, bend and twist inside the body without any mechanical damage, and store more charge than the energy lithium film batteries of comparable size.
Read More at the Source: Battery-free implantable medical device – Today's Medical Developments
Begin your legacy now. We are your medtech and medical device talent advisory firm.