Baxter to Expand Advanced Surgery Portfolio With Acquisition of Seprafilm Adhesion Barrier
Surgery and Surgical Robotics December 2, 2019
Baxter International Inc. (NYSE:BAX), a leading global medical products company, today entered into a definitive agreement to acquire Seprafilm Adhesion Barrier and related assets from Sanofi. The agreement is the latest example of Baxter's continued focus on acquiring products and technologies that have a strong strategic fit with the company's leading portfolio across the hospital, including in the operating room. The transaction contemplates a cash purchase price at closing of $350 million and is expected to close no later than the first quarter of 2020, following satisfaction of closing conditions.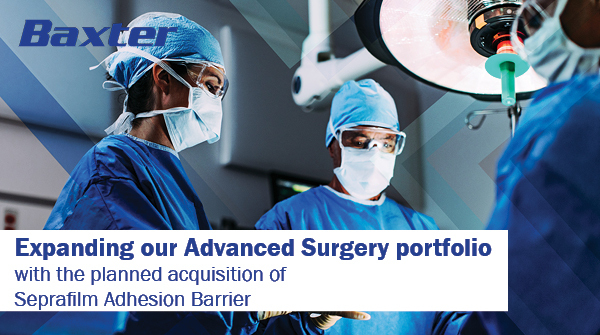 "Seprafilm will be a strong complement to our leading hemostat and sealant portfolio, helping us continue to advance the art of healing with optimized patient care in the operating room," said Wil Boren, general manager, Baxter's Advanced Surgery business. "While Seprafilm is clinically recognized among surgeons globally, we plan to provide commercial support for the product through our dedicated surgery salesforce and pursue opportunities for expansion in certain countries."
Adhesion prevention products, hemostats and sealants are important tools surgeons use to manage intraoperative bleeding and reduce adhesions. Adhesions can occur in any surgeryi when scar tissue develops and binds to nearby tissue. Adhesions can be a source of major post-surgical complications and often require revision, or a second surgery to remove the adhesions. Up to 93% of patients have been shown to develop adhesions following laparotomy,ii a large, surgical incision into the abdominal cavity. Approximately 20% of abdominal surgery patients return for adhesion-related complications, with annual surgical costs of more than $2 billion in the U.S. alone.iii
Seprafilm currently has a global commercial presence including sales in the U.S., Japan, China, South Korea and France, among others. Sales of the proposed acquired products are expected to be approximately $100 million in the 12 months following close.
Important Safety Information
Seprafilm Adhesion Barrier is indicated for use in patients undergoing abdominal or pelvic laparotomy as an adjunct intended to reduce the incidence, extent and severity of postoperative adhesions between the abdominal wall and the underlying viscera such as omentum, small bowel, bladder, and stomach, and between the uterus and surrounding structures such as tubes and ovaries, large bowel, and bladder.
Important Risk Information
Seprafilm Adhesion Barrier is contraindicated in patients with a history of hypersensitivity to Seprafilm and/or to any component of Seprafilm. Seprafilm Adhesion Barrier is contraindicated for use wrapped directly around a fresh anastomotic suture or staple line; as such use increases the risk of anastomotic leak and related events (fistula, abscess, leak, sepsis, peritonitis). The number of sheets used should be just adequate to cover the under surface of the abdominal wall or uterine incision in a single layer. In patients who have ovarian, primary peritoneal or fallopian tube malignancies, Seprafilm use has been reported to have an increased risk of intra-abdominal fluid collection and/or abscess, particularly when extensive debulking surgery was required. The safety and effectiveness of Seprafilm Adhesion Barrier has not been evaluated in clinical studies for the following: Patients with frank infections in the abdominopelvic cavity; patients with abdominopelvic malignancy; device placement in locations other than directly beneath an abdominal wall incision following laparotomy, or directly on the uterus following open myomectomy (not laparoscopic); patients with ongoing local and/or systemic inflammatory cell responses; device use in the presence of other implants, e.g. surgical mesh; patients requiring re-operation within four weeks of Seprafilm placement – during anticipated time of peak adhesion formation. Foreign body reactions have occurred with Seprafilm Adhesion Barrier.
See Full Press Release: Baxter to Expand Advanced Surgery Portfolio With Acquisition of Seprafilm Adhesion Barrier | Business Wire
---
Written by: Baxter
---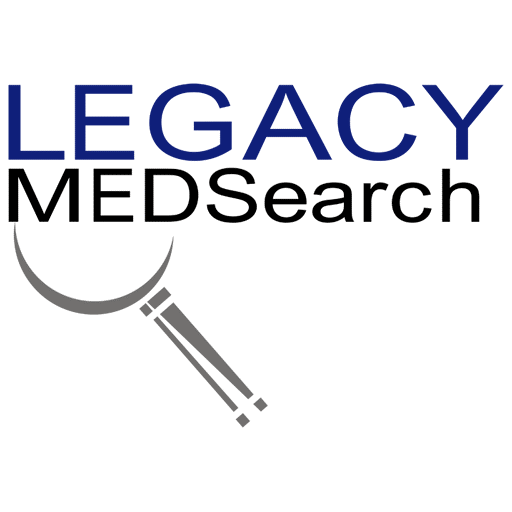 Legacy MedSearch has more than 30 years of combined experience recruiting in the medical device industry. We pride ourselves on our professionalism and ability to communicate quickly and honestly with all parties in the hiring process. Our clients include both blue-chip companies and innovative startups within the MedTech space. Over the past 10 years, we have built one of the strongest networks of device professionals ranging from sales, marketing, research & , quality & regulatory, project management, field service, and clinical affairs.
We offer a variety of different solutions for hiring managers depending on the scope and scale of each individual search. We craft a personalized solution for each client and position with a focus on attracting the best possible talent in the shortest possible time frame.
Are you hiring?
Contact us to discuss partnering with Legacy MedSearch on your position.
AUTHOR - Authorship Credit Noted Above
SHARE