Boy's Leg Saved by Stanmore Lengthening Device
Orthopedics and Spine April 6, 2016
A 10-year-old Connecticut boy, named Dan, came home from a visit to his grandparents with a limp. No one thought much about it until Dan began to experience pain. Then a visit to an urgent care facility and an X-ray revealed that he had an osteosarcoma—a cancer—that was destroying the bone above his knee.
Dan's mother, Terri Therriault, explained in a story by Susan Corica in the Bristol Press about her son that not so long ago Dan's leg would have had to be amputated. Now, a new type of prosthesis, called the Stanmore JTS, which is designed specifically for children, means that Dan can have a knee replacement that will grow along with him.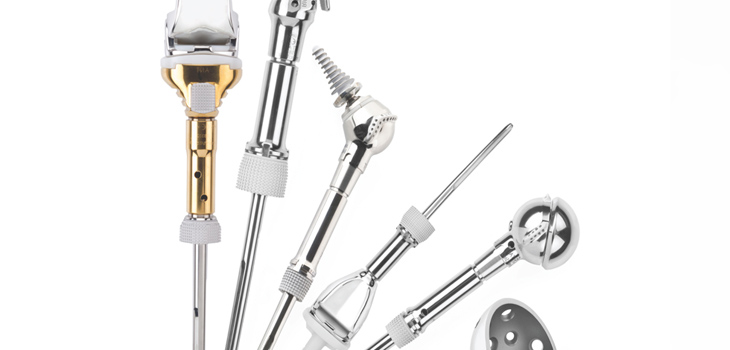 "The one Dan is getting is custom made in the UK," she said, "It is quite a technological marvel." Once the prosthesis is implanted, every few months Dan will put his knee in an electromagnetic device that activates a gear box to lengthen the prosthesis slightly, without the need for further surgery. His mother said that her son refers to it as his "bionic knee." He plans to get it sometime in April.
The knee is manufactured by the National Orthopaedic Hospital in Stanmore, North London, England. The hospital reports that it focuses on one customer category—surgeons performing limb preservation implant procedures arising from complex revision arthroplasty, oncology, and trauma. Company officials say that they design and manufacturer all of their implants on site.
According to the company's web site, its first patient was a 13-year-old girl who, in November 2002, received the JTS first non-invasive extendible implant. Today she has reached skeletal maturity with legs of equal length. The company claims that, since then, over 240 devices have been implanted at specialist centers in 15 countries worldwide. Each implant is designed and manufactured specifically for the recipient patient by the team at Stanmore.
Source: Innovative Stanmore Lengthening Device Spares Boy's Leg | Orthopedics This Week
Photo Courtesy of: Stanmore JTS
Biloine W. Young • Thu, March 24th, 2016
AUTHOR - Authorship Credit Noted Above
SHARE