Medical device and MedTech insights, news, tips and more
Candela Medical Receives FDA Clearance for Vbeam 595 nm Pulsed Dye Laser, a Treatment for Port Wine Stains and Hemangiomas in Pediatric Cases

Candela Corporation (Candela), a leading global medical aesthetic device company headquartered in Marlborough, MA, today announced that the Vbeam Family of Pulsed Dye Lasers (PDL) has expanded its FDA cleared indications for use of the 595 nm wavelength to include the pediatric population (from birth – 21 years of age) for treatment of cutaneous capillary malformations, also known as port wine stains (PWS), and infantile hemangiomas (IH) / congenital hemangiomas.*
Port wine stains affect 1 in every 300 infants, and over time usually get darker and thicker, making early onset treatment critical for optimal results.1 Early treatment of PWS during childhood leads to the best clinical response.2 The incidence of infantile hemangiomas (IHs) in neonatal patients (under 28 days of age) varies, with a reported rate ranging from 1.1 to 2.6% .3 It is also believed that hemangiomas grow rapidly during the first months of life. The Vbeam 595 nm PDL is world recognized as the gold standard treatment for PWS4,5 and the primary choice for hemangioma treatment in pediatric patients.3,6 It stops hemangioma growth, reduces the lesion, and accelerates hemangioma regression, especially in the superficial IH, without serious side effects.3,6
In 33 peer-reviewed published studies conducted globally, the Vbeam 595 nm PDL was proven to be gentle enough for use in >6,000 pediatric patients with PWS/hemangiomas, while powerful enough to deliver effective and durable results.* The Vbeam 595 nm PDL incorporates the optimal wavelength to penetrate through the target vessels, optimal pulse durations for heating of larger caliber blood vessels, and epidermal protection with its pioneering dynamic cooling device (DCD™) to deliver higher clinical efficacy for these PWS cases.4-7 Vbeam 595 nm PDL treatment during infancy can be done without general anesthesia, which offers a safety advantage over repeated treatments performed under general anesthesia, and it can maximize the likelihood of clearance with frequent but safe treatment sessions.5 In fact, the Vbeam 595 nm PDL has been chosen by leading hospitals, 8 out of 10 of the top U.S. children's hospitals**, and dermatologists worldwide, exemplifying the power of the Vbeam 595 nm PDL clinical results.
"I am fortunate to be one of the original investigators in the use of the pulsed dye laser for cutaneous vascular lesions close to forty years ago.", states board-certified cosmetic dermatologist, Roy G. Geronemus, M.D., Director of the Laser & Skin Surgery Center of New York®, who provided a recommendation letter to the FDA for clearance of Candela's Vbeam Family of 595 nm PDLs in the pediatric population. "Since that time, the focus of my clinical research and clinical practice has been the treatment of port wine stains and hemangiomas in infants and children. My most recent study of 197 infants with port wine stains under the age of 1 year showed dramatic clearing and the highest incidence of clearing to date."5
"The new Vbeam 595 nm PDL clearance adds to the already impressive capabilities of this platform. Candela continues to invest not only in clinical research that will allow physicians to give the necessary care to their patients, but also in our philanthropic partnership with the Vascular Birthmark Foundation. With decades of proven results with the Vbeam PDL, Candela is dedicated to advancing clinical care, and this one-of-a-kind clearance is a big step forward in our mission to improve patients' lives," said Geoff Crouse, CEO of Candela.
See Full Press Release at the Source: The Vbeam 595 nm Pulsed Dye Laser, a Recognized Gold Standard for Vascular Treatment, Receives a Ground-Breaking FDA Clearance for the Treatment of Port Wine Stains and Hemangiomas in the Pediatric Population – the First Clearance of its Kind.
---
Press Release by: Candela Medical
---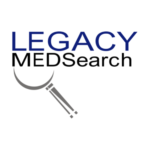 Legacy MedSearch has more than 35 years of combined experience recruiting in the medical device industry. We pride ourselves on our professionalism and ability to communicate quickly and honestly with all parties in the hiring process. Our clients include both blue-chip companies and innovative startups within the MedTech space. Over the past 17 years, we have built one of the strongest networks of device professionals ranging from sales, marketing, research & , quality & regulatory, project management, field service, and clinical affairs.
We offer a variety of different solutions for hiring managers depending on the scope and scale of each individual search. We craft a personalized solution for each client and position with a focus on attracting the best possible talent in the shortest possible time frame.
Are you hiring?
Contact us to discuss partnering with Legacy MedSearch on your position.
Begin your legacy now. We are your medtech and medical device talent advisory firm.