Cardiovascular Benefits of Using a Sauna
Cardiovascular / Cardiology January 11, 2018
A research group from the University of Eastern Finland has published a series of studies demonstrating regular sauna bathing may be associated with a reduced risk of coronary heart disease, sudden cardiac death, hypertension, Alzheimer's disease and dementia, according to a press release.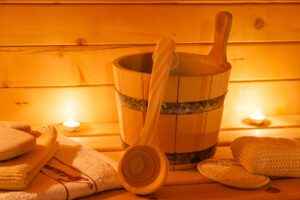 The group's latest work, published Dec. 21 in the Journal of Human Hypertension, highlights the physiological mechanisms through which sauna use may provide these benefits. Immediately after 30-minute baths, blood pressure (BP) levels in the 102 participants were reduced and vascular compliance was increased when compared to pre-bath measurements. In addition, the individuals experienced elevated heart rate levels similar to medium-intensity exercise.
Mean systolic blood pressure was reduced from 137 millimeters of mercury to 130 mm Hg and diastolic blood pressure from 82 mm Hg to 75 mm Hg. Thirty minutes later, systolic blood pressure remained lower than pre-sauna levels. Mean carotid-femoral pulse wave velocity—an indicator of vascular compliance—dropped from 9.8 meters per second before sauna time to 8.6 m/s immediately afterward.
"This study demonstrates that sauna bathing for 30 (minutes) has beneficial effects on arterial stiffness, BP, and some blood-based biomarkers," wrote senior study author Jari A. Laukkanen, MD, PhD, and colleagues. "These findings may provide new insights underlying the emerging associations between sauna bathing and reduced risk of cardiovascular outcomes."
Read More at the Source: Study spotlights cardiovascular benefits of sauna use | Cardiovascular Business
by: Daniel Allar
AUTHOR - Authorship Credit Noted Above
SHARE