Medical device and MedTech insights, news, tips and more
Centinel Spine® Completes Enrollment in First-of-its-Kind 2-Level IDE Trial Evaluating prodisc® C Match-the-Disc™ Cervical TDR System

Centinel Spine®, LLC, ("the Company") a leading global medical device company addressing cervical and lumbar spinal disease by providing the most robust and clinically-proven total disc replacement technology platform in the world (prodisc®), today announced the completion of enrollment in a first-of-its-kind Investigational Device Exemption (IDE) study evaluating the Company's prodisc C Vivo and prodisc C SK cervical Total Disc Replacement (TDR) system. This is the first IDE trial allowing surgeons to select from two different TDR control devices to treat each surgical level individually.


The prospective, randomized clinical trial is designed to evaluate the safety and effectiveness of the prodisc C Vivo and prodisc C SK system by comparing it with an approved TDR product as a control for 2-level indications, making it the first and only of its kind with two investigational devices and a TDR control. The study includes 431 Subjects at 29 sites throughout the U.S. and with oversight from the U.S. Food and Drug Administration. The study permits surgeons to select the investigational device—the prodisc C Vivo and/or prodisc C SK—based on the patient's anatomy, as well as other surgical factors. The ability to treat each level of two-level disease individually provides surgeons with both increased options and opportunities to match the disc to each patient's anatomical needs.
Orthopedic spine surgeon Jason Tinley, MD, founder of the DFW Center for Spinal Disorders in Dallas-Fort Worth, Texas, commented, "Each of my patients is unique in their cervical spine operative symptoms and anatomy. This IDE study was the first ever to evaluate the safety and efficacy of multiple total disc replacement devices that empower surgeons to tailor their surgical solution to the patient's needs. I've found that prodisc C Vivo and prodisc C SK provide a powerful means to customize my surgical treatment to each patient."
The prodisc C Vivo system has been in clinical use internationally since 2009 and is currently one of the most frequently implanted TDR devices in the world. The device has keel-less fixation and combines a unique anatomically-designed superior endplate with lateral spikes to optimize fit and provide immediate fixation. The prodisc C SK device features a flat endplate designed for optimized implant positioning that allows surgeons to address individual patient anatomy—with a low-profile central keel that provides immediate fixation and enables a streamlined keel preparation technique.
According to Pierce Nunley, orthopedic spine surgeon at Specialists Hospital of Shreveport, Shreveport, Louisiana, "In 25 years of research this was the only FDA study I have ever been in where I got to choose intraoperatively between two different study devices. This is a unique aspect of this study and we are learning that 'one size doesn't fit all' and where it is more appropriate to use different designs of a device. This study will help advance and improve cervical disc replacement surgery for the benefit of our patients."
"This is the first study ever to compare two different spinal devices to an approved TDR product, making it a unique opportunity to extend Centinel Spine's Match-the-Disc™ cervical total disc replacement system to the treatment of two-level disease," said Centinel Spine CEO Steve Murray. "The continued adoption of this cervical total disc replacement technology at one-level propelled Centinel Spine to record revenues and a top market position in the first quarter of 2023. We look forward to further expanding the body of clinical evidence supporting this system and to enabling more surgeons to treat each patient's unique needs."
About Centinel Spine, LLC
Centinel Spine®, LLC is a leading global medical device company addressing cervical and lumbar spinal disease through anterior surgical access. The Company offers a continuum of trusted, brand-name solutions backed by over 30 years of clinical success—providing the most robust and clinically-proven technology platforms in the world.
Centinel Spine continues to advance its pioneering culture and corporate mission to become a catalyst of change in the spine industry and alter the way spine surgery is perceived. Centinel Spine's prodisc platform remains the only technology with multiple motion-preserving solutions for both cervical and lumbar anterior column reconstruction.
See Full Press Release at the Source: Centinel Spine® Completes Enrollment in First-of-its-Kind 2-Level IDE Trial Evaluating prodisc® C Match-the-Disc™ Cervical TDR System
---
Press Release by: Centinel Spine
---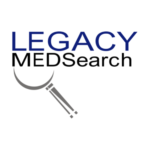 Legacy MedSearch has more than 35 years of combined experience recruiting in the medical device industry. We pride ourselves on our professionalism and ability to communicate quickly and honestly with all parties in the hiring process. Our clients include both blue-chip companies and innovative startups within the MedTech space. Over the past 17 years, we have built one of the strongest networks of device professionals ranging from sales, marketing, research & , quality & regulatory, project management, field service, and clinical affairs.
We offer a variety of different solutions for hiring managers depending on the scope and scale of each individual search. We craft a personalized solution for each client and position with a focus on attracting the best possible talent in the shortest possible time frame.
Are you hiring?
Contact us to discuss partnering with Legacy MedSearch on your position.
Begin your legacy now. We are your medtech and medical device talent advisory firm.