Custom Fit Spinal Implant Rods is the Key
Orthopedics and Spine February 2, 2017
Custom fit is the key when it comes to spinal implant rods, which an estimated 38,000 people need each year. This need is especially great for people who have a spinal deformity such as scoliosis, which causes the spine to twist and turn into complex and sometimes dangerous positions. In 2010 and 2011, an estimated 1.6 million people received treatment for scoliosis according to the Bone and Joint Initiative, a consortium of professional medical societies.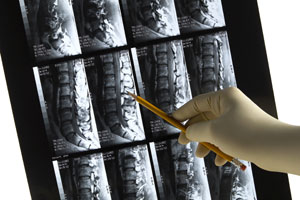 Correcting this deformity involves moving a distorted spine into a different position, which is no simple task. To accomplish it, surgeons attach metal rods to the bones surrounding the spinal column in order to support and straighten the spine.
To perform this demanding procedure, surgeons previously needed to be as much a sculptor as a physician. Over the years, they have mastered the art of cutting, bending and twisting metal rods to fit each patient.
Often, however, this manipulation may create weak spots in the rod where it can break in the future. In addition, the manipulation of the rods traditionally has been done in the operating room during surgery, adding to the time a patient spends in surgery under anesthesia.
Now, however, advances in medical imaging and implant manufacturing are making it possible to tailor an implant to the patient receiving it.
Matthew Colman, MD, has begun using patient-specific rods in reconstructive surgery — giving patients with spinal deformities implants designed to fit their anatomy perfectly. An assistant professor of orthopedic surgery at Rush University Medical Center, Colman is one of few spinal surgeons in the world who also specializes in spine cancer treatment and was one of the first doctors in Chicago to use these patient-specific rods.
Read More – Source: Custom-Fitted Spine Implants – Featured News – Rush University Medical Center
By Nancy DiFiore
AUTHOR - Authorship Credit Noted Above
SHARE