FDA Approval for Ceterix Orthopaedics New Suture Cartridge
Orthopedics and Spine August 28, 2018

Ceterix® Orthopaedics, Inc., a leader in the development of cutting-edge surgical tools for orthopaedic surgeons, today announced U.S. Food and Drug Administration (FDA) 510(k) clearance of an added feature to the NovoStitch® Pro Meniscal Repair System – a size 0 suture cartridge – offering surgeons more options to repair meniscal tears.
The NovoStitch Pro system enables surgeons to place stitches arthroscopically in tight joint compartments, allowing them to address meniscal tears which have not been amenable to repair in the past. With the addition of the NovoStitch Pro's new 0 suture cartridge, surgeons have expanded options in suture size and are able to pass a complete stitch within the knee joint without having to remove the device to reload a suture, a common shortcoming among other systems.
More than 100,000 patients each year experience a common yet debilitating type of meniscal injury known as a meniscal root tear1. The availability of the 0 suture cartridge to the NovoStitch Pro system offers greater flexibility to physicians performing meniscal root and other complex repairs.
"The considerable strain placed on the knee's meniscus during common physical activities makes it particularly prone to injury," said Dr. David Flanigan, professor of orthopaedics and director of the Cartilage Restoration Program at The Ohio State University Wexner Medical Center. "Having access to a larger suture provides additional possibilities for meniscal repair."
"Ceterix continues to bring advanced technology to orthopaedic surgeons who are looking for better ways to preserve the meniscus," said John McCutcheon, Ceterix's president and CEO. "This latest innovation will be especially beneficial to those surgeons who prefer an 'all-inside, all-suture' procedure with a stronger suture for the more-demanding meniscal root repairs."
The meniscus is a crescent of soft cartilage that sits between the femur and tibia, providing stability and shock absorption to the knee. The meniscus attaches to the tibia at its root but is subject to tearing at this attachment point. Historically, this type of repair would have been treated with a meniscectomy (complete or partial removal of the meniscus) which has been shown in studies to increase a patient's risk of developing osteoarthritis, which may lead to total knee replacement later in life.
Arthroscopic surgery is a minimally-invasive procedure in which an orthopaedic surgeon treats a damaged joint through small incisions using specialized tools guided by a tiny camera called an arthroscope. Meniscus surgery is the most common arthroscopic procedure in the United States, with roughly one million performed annually.
Read More at the Source: Ceterix Orthopaedics Announces FDA Clearance of New Suture Cartridge, Providing Increased Flexibility and Enhanced Options for Surgeons | Business Wire
---
Press Release by Ceterix Orthopaedics
---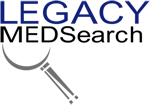 A Speciality Recruiting Firm Exclusively Servicing The Medical Device Industry
Legacy MedSearch has more than 30 years of combined experience recruiting in the medical device industry. We pride ourselves on our professionalism and ability to communicate quickly and honestly with all parties in the hiring process. Our clients include both blue-chip companies and innovative startups within the MedTech space. Over the past 10 years, we have built one of the strongest networks of device professionals ranging from sales, marketing, research & , quality & regulatory, project management, field service, and clinical affairs.
We offer a variety of different solutions for hiring managers depending on the scope and scale of each individual search. We craft a personalized solution for each client and position with a focus on attracting the best possible talent in the shortest possible time frame.
Are you hiring?
Contact us to discuss partnering with Legacy MedSearch on your position.
AUTHOR - Authorship Credit Noted Above
SHARE