Medical device and MedTech insights, news, tips and more
FDA Approves Innovative 4D Flow MRI Blood Flow Analysis Software from Cardio Flow Design Inc.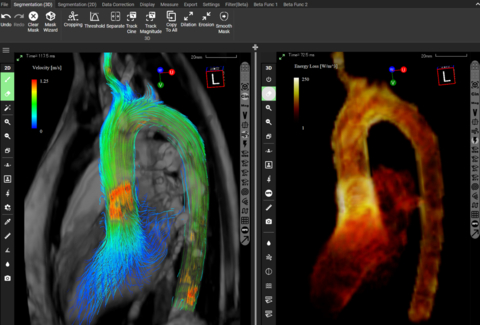 The US Food and Drug Administration has approved the use of iTFlow® in blood flow analysis. The FDA approval is significant as it recognizes the safety and effectiveness of iTFlow® in analyzing blood flow through 4D Flow MRI data, with the potential to enhance diagnostic accuracy for patients with cardiovascular diseases and heart conditions.
The FDA approval of iTFlow® will enable healthcare professionals to make more precise and effective decisions in patient care.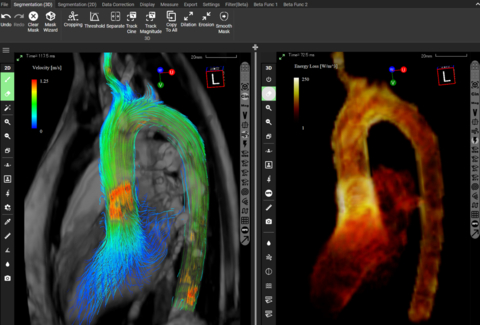 iTFlow® is an innovative software solution developed by Cardio Flow Design Inc. that supports blood flow analysis and evaluation in the fields of cardiovascular surgery and radiology. Based on MRI data, users can perform their own analysis and visualization of blood flow. It enables the visualization of fluid dynamics in the heart and blood vessels in both 2D and 3D, even without the use of contrast agents. Furthermore, various quantitative evaluations can be made, including flow rate, velocity, pathline, streamline, and other parameters. Combining advanced algorithms and image analysis techniques assists physicians and healthcare professionals in diagnosis and treatment planning.
Dr. Itatani, MD, Ph.D., a cardiovascular surgeon specializing in adult congenital heart disease and the inventor of iTFlow®, explains, "We developed this software with the aim of enabling all physicians, regardless of their level of experience, to propose the most appropriate treatment for patients even with complicated anatomy and cardiac function by quantitatively evaluating blood flow."
Dr. Loke, Associate Professor of Pediatrics at Children's National Hospital, who has been conducting retrospective blood flow analysis research with iTFlow® prior to FDA approval, commented: "Cardiac magnetic imaging research has demonstrated the emerging potential of advanced intracardiac flow analysis in heart disease beyond traditional measurements. To that end, iTFlow® provides a front-line software interface to measure kinetic energies, vortexes, and shear stresses inside the heart without the need for complex in-house engineering software. I am excited by the potential of software such as iTFlow® in bringing intracardiac flow analysis to clinical cardiology." (Disclaimer: measurement of kinetic energy, vortexes, and wall shear stress is currently for research use only.)
Cardio Flow Design Inc. has been committed to strict quality management processes and efforts to comply with FDA standards in the development of iTFlow®.
Company CEO, Teruyasu Nishino, MD, expressed his joy with FDA approval, "We are delighted this software has obtained FDA approval. We have been pursuing the concept of blood flow analysis with 4D flow MRI for many years, and iTFlow® encapsulates the essence of this concept. With this approval, we believe that healthcare professionals will be able to provide more accurate diagnoses and treatment plans for cardiovascular diseases, especially for children with congenital heart disease, and will save many lives. This innovation will change the way of diagnosis and serve as a catalyst to spread the adoption of blood flow analysis worldwide."
About Cardio Flow Design
Cardio Flow Design Inc. was founded by two doctors with a mission to "change cardiology with blood flow analysis." The Company aims to create a world where diagnostic procedures based on blood flow can be easily conducted. With the advancement of technology and CT/MRI, obtaining more definitive information about the state of blood flow within the body has become possible. Cardio Flow Design, Inc. strives to bring about significant innovations in the diagnosis and treatment of cardiology and cardiovascular surgery through the application of blood flow analysis technology to predict future diseases and aid in surgical planning.
See Full Press Release at the Source: FDA Approves Innovative 4D Flow MRI Blood Flow Analysis Software from Cardio Flow Design Inc. (Japan) – Enhance Cardiovascular Diagnostic Accuracy
---
Press Release by: Cardio Flow Design Inc.
---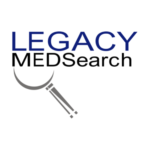 Legacy MedSearch has more than 35 years of combined experience recruiting in the medical device industry. We pride ourselves on our professionalism and ability to communicate quickly and honestly with all parties in the hiring process. Our clients include both blue-chip companies and innovative startups within the MedTech space. Over the past 17 years, we have built one of the strongest networks of device professionals ranging from sales, marketing, research & , quality & regulatory, project management, field service, and clinical affairs.
We offer a variety of different solutions for hiring managers depending on the scope and scale of each individual search. We craft a personalized solution for each client and position with a focus on attracting the best possible talent in the shortest possible time frame.
Are you hiring?
Contact us to discuss partnering with Legacy MedSearch on your position.
Begin your legacy now. We are your medtech and medical device talent advisory firm.