Medical device and MedTech insights, news, tips and more
FDA Bans Its Second Medical Device Ever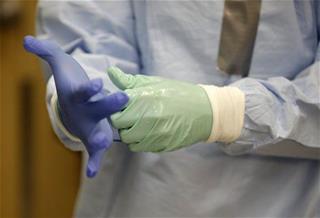 (NEWSER) – The Food and Drug Administration has banned only the second medical device ever, and it's sort of an unlikely one: powdered medical gloves.
Powder has for decades been added to (now a small minority) of latex medical gloves to help healthcare workers put them on and remove them more easily. But since the late 1990s, studies have suggested a strong link between their use and a host of medical problems, including allergies if the powder becomes airborne, as well as wound inflammation and even the formation of bands of scar tissue between organs, Live Science reports. The FDA proposed banning the gloves in March, and it now officially has, reports the Regulatory Affairs Professional Society.
Not everyone is thrilled with the FDA's swiftness on the ban: Public Citizen's Health Research Group called on the agency to do so in 1998 and 2011 and calls the 18-year delay "reckless negligence. There is absolutely no new scientific information today that we didn't have in 1998." The FDA, meanwhile, said it would have been too disruptive to the market of a critical device back in the 1990s, when the gloves were more common. The New York Times reported earlier this year that hospitals began switching to safer alternatives in the late 1990s and today only a very small percentage are powdered. The ban kicks in on Jan. 19. As for the first device banned by the FDA? Prosthetic hair fibers were banned back in 1983. (Protective gear like gloves also help spread infections.)
Source: FDA bans its second medical device ever
Author: Elizabeth Armstrong Moore,  Newser Staff
Photo Credit: AP Photo/Charles Rex Arbogast
Begin your legacy now. We are your medtech and medical device talent advisory firm.