Harvard's New Biosensitive Tattoos Could Replace Smart Wearables
Biologics, Wound Care, Infection Prevention October 20, 2017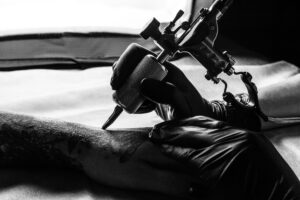 Thanks to wearable technology, you can go for a run and a fitness tracker will tell you how long you've exercised, your heart rate, and how many calories you've probably burned. That's cool, sure, but there's only so much it can tell you. Sitting on the surface of your skin, your Apple watch can't analyze your metabolism, your dehydration levels, or your dwindling blood sugar levels. And to be honest, it makes you look like a dork.
How can you look like a badass and monitor your health? Harvard and Massachusetts Institute of Technology recently announced a solution: Cover your body in biosensor tattoos, baby.
The researchers developed proof-of-concept tattoos using special ink that they claim can monitor health by changing colors. These biosensitive inks are described in a new paper, published as part of the Proceedings of the 2017 ACM International Symposium on Wearable Computers, under the deeply metal title "The Dermal Abyss."
"This work could be expanded to monitor athletes and their health levels, people who have chronic conditions that need to be monitored like diabetes, and it could even be used on astronauts to monitor their health in space," study co-author Nan Jiang, M.D. tells Inverse.
She says that the collaborative research teams that worked on this project were excited by the idea of combining something artistic, like tattoos, with a "very hot topic" like wearable technology.
Read the Rest at the Source: Harvard's New Biosensitive Tattoos Could Replace Smart Wearables | Inverse
Written by 
Sarah Sloat
AUTHOR - Authorship Credit Noted Above
SHARE