Medical device and MedTech insights, news, tips and more
Here's What is Wrong with Your Cover Letter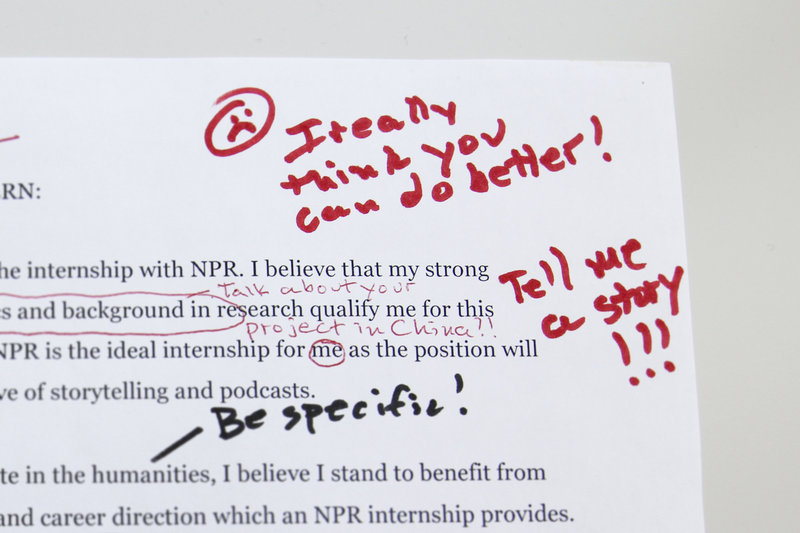 We've written a lot about the link between college and the workforce — and the kinds of skills graduates will need in the 21st century to succeed. One of the skills you need is knowing how to present yourself. To put your best foot forward in the workplace, and in life.
And so, as we started to read the current round of internship applications, we have some advice for you.
The problem we see, over and over and over again? Well, let's just say your cover letter needs some work.
More often than not, the problems are there right from the very first sentence. Actually the first three words: "I am writing …"
As in: "I am writing to express my interest in an internship" or "I am writing to apply for the internship with NPR."
Think about that for a moment: You've written to us to tell us that you're writing to us to apply for the internship that you've applied for.
(By the way, we blame the Internet for a lot of this form-letter stuff.)
Read that sentence out loud. Try doing it without taking a breath. See what we're talking about?
Continuing from there, you'll then praise us at NPR for our dedication to the mission of exploring the complex policy initiatives that are something something about America's something something education system.
Then, having put us to sleep with writing like that, you'll tell us about your writing skills.
Now, all of this isn't meant to poke fun at you. We're just trying to make it clear that, when you write us that paragraph, we pretty much tune out from there. Which is sad, because so many of you are amazing and talented students who've done some incredible things. You've started a nonprofit or traveled the world or raised a sibling or learned a third language or have insights into a culture or community that others don't know about.
It's sad, too, because in many cases you really like us and really want to work here. Usually, you're about to tell us, that's because you grew up listening to NPR in the back seat of the car while your parents had us on the radio and you came to admire the work that we do.
So, instead of all that, here are five things you can try: Click below to read more
Source: How To Get An Internship At NPR Ed : NPR Ed : NPR
Image: LA Johnson/NPR
Begin your legacy now. We are your medtech and medical device talent advisory firm.