Medical device and MedTech insights, news, tips and more
Holoxica wins €1.3m to develop next-gen 3D medical displays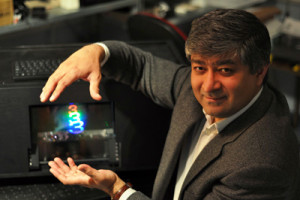 Holographic display developerHoloxica, has secured a €1.28 million grant award from the European Commission's Horizon2020 "SME Instrument" investment program to develop a prototype 3D holographic video display aimed at medical scanners.The types of scanner that are the objective of the two-year program, which started in January, include CT, MRI or ultrasound systems, the relatively large and invariably costly machines that pass radiation through the body to produce 2D image slices. Typical applications are in the detection of cancers and cardiovascular diseases. But the proposed displays will also acting as teaching and training aids.
3D vision
Holoxica needs to develop a more sophisticated display (beyond its third-generation systems) to enhance these biomedical imaging techniques because 3D scans produced by such scanners need to be seen in 3D; not only by doctors and surgeons but also the patients as well. Current solutions based on 3D glasses are not suitable for optimal clinical use.
Dr Javid Khan, Holoxica's managing director, told optics.org, "Our medical display takes the scanned slices and converts them into light for natural viewing in mid-air without any glasses. Benefits include quicker diagnostics, fewer mistakes, faster surgery and better quality surgery."
Dr Khan, who prior to launching the company, worked in Philips Advanced Products development and at the European Commission on R&D program management, managing an annual budget of over €10 million, added, "the new funding will be used to build a prototype for initial validation with end-users including St Thomas' Hospital London, Kings College London, and the Clinical Research Imaging Centre at Edinburgh University. We a looking for further VC or Angel investment – at least €1.3 million (£1 million) in 2016, to develop prototypes and make actual products for clinical trials and scaling for production.
"We are trying to see which applications in medicine would be a good fit for the hardware we are developing, so we are looking at the performance of the body scanners, such as with MRI applications. Holoxica is also working with Siemens Healthcare, which is giving us access to their scanning machines. The project involves other academic partners around Europe, including universities in Basle, Sweden and in Sydney, Australia."
Holoxica is moving
After almost seven years based at Edinburgh University, Holoxica has finally outgrown its work space and from March 1st the five-person company is relocating to a startup incubator elsewhere in the city. Dr Khan explained, "We are imminently moving to Code Base, a dedicated workspace for new high-tech companies. Holoxica is currently five people but w are due to double in size this year and probably again next year when production of the new displays starts."
He added, "Siemens Healthcare no longer makes such displays itself, so it will be contracting the manufacture to OEM manufacturers, such as Barco, which is one of the big names in X-ray display technology. Holoxica will be consulting with them to make sure the production output is exactly what we want."
About the Author
Matthew Peach is a contributing editor to optics.org.
Source: Holoxica wins €1.3m to develop next-gen 3D medical displays
Begin your legacy now. We are your medtech and medical device talent advisory firm.