Improved Healthcare Worker Eye Protection Can Help Reduce System Occupational Infection Risk
Biologics, Wound Care, Infection Prevention April 28, 2016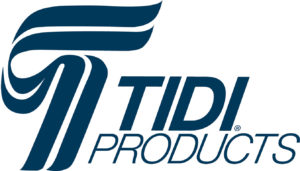 TIDI Products, LLC, a leading manufacturer of clinically differentiated, single-use, infection-prevention products, today cited the presentation of important scientific research at the annual meeting of the International Association of Healthcare Central Service Materiel Management (IAHCSMM) in San Antonio, Texas.
IAHCSMM is a professional association of more than 23,000 members dedicated to protecting employee and patient safety through improved central service standards, best practices, and continuing education. The 2016 annual gathering, occurring April 24-27, 2016, has featured a series of presentations developed to help reduce occupational exposure risk.
One such presentation, "Occupational Blood and Body Fluid Exposures During Device Reprocessing: Creating Safer Workplaces," details the increasing rate of eye and conjunctiva exposures in US hospitals, including as a result of central service occupation requirements. The research, presented by Dr. Amber Hogan Mitchell, President and Executive Director of the International Safety Center, is founded in data reported over a five-year period (2010-2014) and specifically calls out exposure incidents occurring to employees processing and reprocessing medical devices and patient care items. With statistics from the Center's Exposure Prevention Information Network (EPINet®), Dr. Mitchell found eye exposures accounted for 66.7% of all incidents reported. Dr. Mitchell concludes healthcare professionals remain at high risk from unprotected eyes. By understanding how exposures occur, facilities can help prevent future exposures.
Another presentation, "Eyewear Protocol and Process Improvement," outlines the realities of eye infection risk and the benefits associated with improved eyewear protocols and processes. Through his presentation, Victor R. Lange, Director of Infection Prevention at Alta Hospital Systems in Los Angeles, educated attendees about the realities of eye-infection risk and the value of best-practice prevention strategies. In a study he conducted, Mr. Lange found 50% of all eyewear pieces tested were contaminated after use and nearly 75% of all reusable eyewear pieces were still contaminated following disinfection. With new protective eyewear procedures adopted and easy access to single-use eyewear in place, Mr. Lange tracked a 100% reduction in eye splashes compared to the prior 12 months of baseline data, as well as 15 splash "saves" in the first 90 days alone. Mr. Lange concludes similar process improvement program implementation provides an opportunity to virtually eliminate eye exposure risk and significantly improve healthcare professional safety.
To assist healthcare facilities in gaining greater compliance, performance, and protection, TIDI offers the TIDIShield® Grab 'n Go™ Eye Shields in a point-of-use dispenser. By placing single-use TIDIShield Grab 'n Go Eye Shields wherever gloves or masks are available, facilities can help reduce staff infection transmission risk via conjunctiva.
"TIDI Products is dedicated to supporting caregivers and preventing infection. As evidenced in these studies, easily accessible disposable eyewear is vital to improving nursing staff occupational health and safety," stated TIDI Products Chief Commercial Officer Mark Beran.
About TIDI Products, LLC
TIDI Products, LLC is a leading global manufacturer of innovative, single-use, infection-prevention products and unique, safety-improving interventional equipment. TIDI is committed to supporting caregivers and preventing infections in hospitals, clinics, dental offices, and other healthcare environments. The TIDI Product portfolio ranges from exam table paper, patient capes and gowns, dental bibs, curing light sleeves, intra-oral camera covers, and sterile C-Arm drapes; to protective eyewear, gowns, masks and gloves for staff; to securement products for catheters and other devices. For more information, please visit http://www.TIDIProducts.com or follow us on Facebook, Twitter, LinkedIn, and YouTube.
Source: Improved Healthcare Worker Eye Protection Can Help Reduce System Occupational Infection Risk
AUTHOR - Authorship Credit Noted Above
SHARE