Medical device and MedTech insights, news, tips and more
Interventional Cardiologists May Have Pre-Cataract Lesions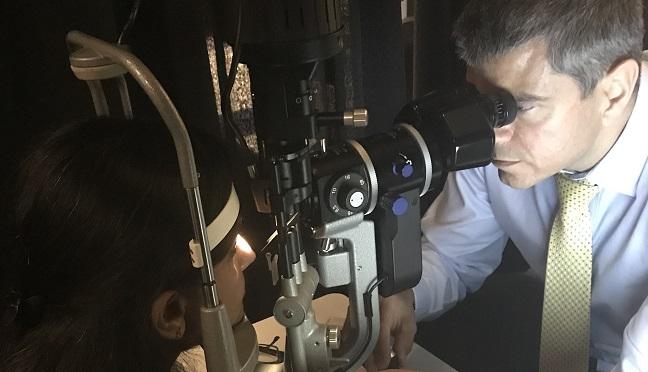 NEW ORLEANS, LA—Up to half of interventional cardiologists who are exposed to ionizing radiation in the cath lab may have early evidence of eye changes that could eventually become cataracts, according to data from a small study.
"Studies in cosmonauts, Chernobyl disaster survivors, and others have shown an association between ionizing radiation and damage to the lens, specifically an area that has been traditionally considered the most radiosensitive, which is located in the posterior," said Aris Karatasakis, MD (University of Texas Southwestern Medical Center, Dallas), in an interview with TCTMD.
Last year at the Society for Cardiovascular Angiography and Interventions (SCAI) meeting, as reported by TCTMD, Karatasakis and colleagues including Emmanouil S. Brilakis, MD, PhD (Dallas VA Medical Center, TX), conducted eye exams as part of the iC-CATARACT program to look for these posterior subcapsular cataracts among attendees.
Speaking with TCTMD this year at the SCAI 2017 Scientific Sessions—the data have not yet been formally presented or published—Karatasakis reported that 117 participants were consented into the study. These included 99 people who were interventional cardiologists, vascular surgeons, or other healthcare providers who filled out a survey while attending SCAI 2017 and were confirmed to be exposed to occupational radiation, as well as 18 controls drawn from exhibitors, research professionals, and others with no occupational exposure to radiation.
"In the 99 exposed participants who were consented and examined with a slit lamp, we found that the prevalence of these relatively minor, but potentially pre-cataract lesions was approximately 47% compared with 17% in the control group, which was found to be a statistically significant relationship," Karatasakis said. The difference persisted after multivariable adjustment for age, smoking, and diabetes. However, there was no difference between the occupational exposure and nonexposure groups for more serious eye disorders.
Read More from the Source: Nearly Half of Interventional Cardiologists May Have Pre-Cataract Lesions | tctmd.com
Photo Credit: L.A. McKeown
Begin your legacy now. We are your medtech and medical device talent advisory firm.