Medical device and MedTech insights, news, tips and more
Kinsa the Crowdsourced Smart Thermometer Data Now Rivals the CDC at Tracking Flu Trends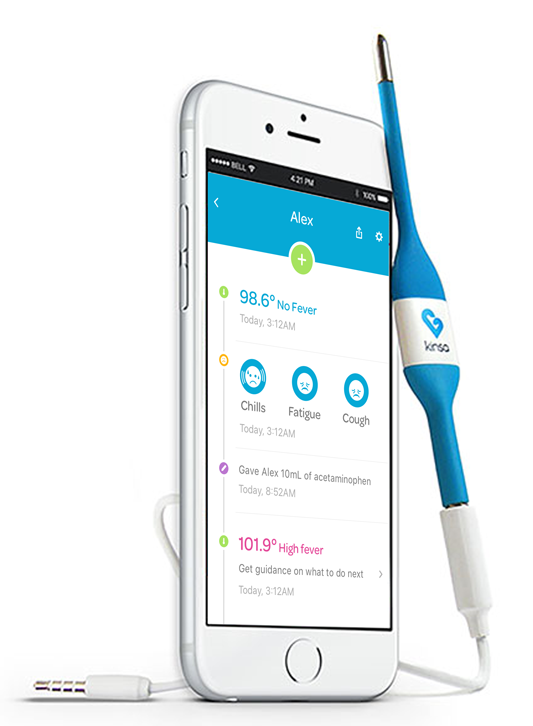 Kinsa is one of the leading digital health companies in the smart thermometer space, but the company's mission has never been to sell thermometers. Instead, Kinsa has always seen itself as a big data company. With the recent public launch of Kinsa Insights, that aspect of the company is taking center stage.
"The core hypothesis of the company is 'Could we find a way to communicate with someone who's just fallen ill to help them and, as a byproduct of that, understand where and when illness is spreading more broadly?" CEO Inder Singh told MobiHealthNews. "It works. It's super cool and the fidelity of the data is so much even higher than what I expected."
The company collects aggregated, de-identified data every time a user takes their temperature or their child's temperature, or interacts with the app, which allows users to self-report symptoms.
Singh says Kinsa waited through two and a half flu seasons to see how the company's data matched up with the CDC's flu statistics. Now the company is able to boast an R-Squared of 0.96, which represents an extremely close match to CDC's data.
"And we're getting ours in realtime, while their data streams in over the course of several weeks," he said. "So we're getting ours in realtime much earlier than any other data set, except perhaps social media, and certainly it's more accurate than social media because it's real illness data. It's not a proxy from searches or conversations, it's direct data."
Kinsa does a few different things with that data. For one thing, the company shares it back with the users it came from. Through a program in schools, parents can see flu trend data for their child's school specifically. Some top-level data is available at the Kinsa Insights Blog. Larger stakeholders — like health systems and, especially, manufacturers — have to pay for the data.
Read More at the Source: Kinsa's crowdsourced smart thermometer data now rivals the CDC at tracking flu trends | MobiHealthNews
---
Begin your legacy now. We are your medtech and medical device talent advisory firm.