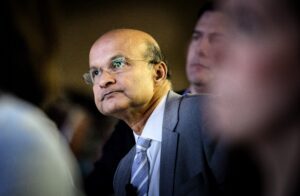 Minnesota-run Medtronic PLC and California-based Masimo Corp. are bitter rivals when it comes to selling medical devices that detect health problems by measuring patients' blood oxygen levels in the hospital or clinic.
But when it comes to patient safety, the leaders of the two companies are now sitting at the same table to discuss how they can share de-identified patient data with each other, as well as outside researchers and entrepreneurs, to predict health problems.
Medtronic CEO Omar Ishrak announced this week that he is joining the board of the Patient Safety Movement Foundation, which was founded four years ago by Masimo CEO Joe Kiani. Ishrak's appointment to the foundation board comes with a commitment from Medtronic to provide $5 million over five years and to securely share data from medical devices that could be used to design "predictive analytics" programs.
In theory, pooling de-identified health data from many different companies' medical devices, including the pulse-oximeters sold by Medtronic and Masimo, could allow programmers to write computer code to detect subtle clues in past patient records and then predict health problems for patients in real time.
"We wanted to show the health care industry, hospitals, everyone, that when it comes to patient safety we all have to collaborate together. Even fierce competitors," Kiani said by phone Friday. "Hopefully some of the other [companies] that are sitting on the sidelines will now say, 'Look, Medtronic joined, and they are Joe's major competitor. What are we waiting for?' "
More than 60 other health care tech companies and suppliers have already pledged to contribute device data to the foundation's work, including GE Healthcare, IBM Watson Health, Philips Healthcare and Zoll Medical.
For Medtronic, which sells diagnostic and therapeutic medical devices, the data-sharing agreement applies only to patient-level information from monitoring and diagnostic devices. It would not apply to proprietary data or information generated by implantable devices like pacemakers.
"Individual patient-level data, generated in clinical practice from diagnostic tests and therapies [including infusion pumps, anesthesia machines, and physiological monitors] … should be available for sharing among the relevant stakeholders [patients, clinicians, researchers, medical technology manufacturers and the public] in an effort to improve patient safety," Ishrak's signed pledge says.
The Patient Safety Movement Foundation is working toward an aggressive goal of eliminating all preventable patient deaths in health care settings by the year 2020. The organization puts on an annual summit to brainstorm and promote "actionable patient safety solutions" for deadly problems like medication errors, miscommunication among care givers, and failure to detect problems like sepsis and heart disease.
At least 210,000 Americans die each year from preventable harm in hospitals, according to a 2013 analysis published in the Journal of Patient Safety. In addition to the toll in human life, those errors cost nearly $20 billion in extra services and drugs in 2008, according to a 2010 study by actuarial firm Milliman.