Medtronic Buys Lazarus Effect For 100 Million
Cardiovascular / Cardiology November 6, 2015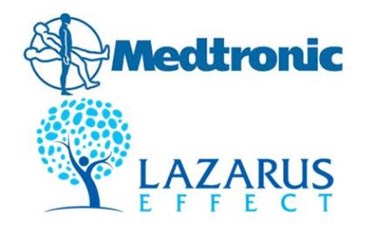 Medtronic is acquiring private-held Lazarus Effect, developer of a mesh cover for stent retrievers of blood clots, for $100 million in cash. As part of the deal, Medtronic obtains the Lazarus Cover device, which will serve as an adjunct to Medtronic's Solitaire stent retriever device, used to remove clots from acute ischemic stroke patients.
A press release describes the Lazarus Cover as a "novel nitinol 'mesh cover' that folds over a stent retriever device during clot retrieval and 'candy wraps' the stent with the clot inside." It is designed to trap extra thrombi not captured by the stenting device in the clot retrieval process, thereby improving outcomes of this interventional procedure. The product received CE Mark approval last year, and U.S. Food and Drug Administration (FDA) approval is pending.
Medtronic said that, of the 695,000 acute ischemic stroke victims in the U.S., about 240,000 are eligible for treatment with a stent retriever, such as its Solitaire device. There were about 13,000 procedures using stent retrieval devices last year, but that number likely will increase following recent recommendations by the American Heart Association (AHA) and the American Stroke Association (ASA) to use such devices as endovascular treatment for acute ischemic stroke in select patients, in addition to standard tissue plasminogen activator (tPA) therapy.
The decision was based on the results of numerous global trials, which demonstrated that the use of a stent retrieval device will benefit a patient who continues to have a blood vessel blocked by a clot even after tPA is administered. At least five of those trials used Medtronic's Solitaire device.
Read More – Source: Medtronic Buys Lazarus Effect For 100 Million
By Jof Enriquez
AUTHOR - Authorship Credit Noted Above
SHARE