Medical device and MedTech insights, news, tips and more
Miami Valley Unveils ROSA Spine Surgical Robot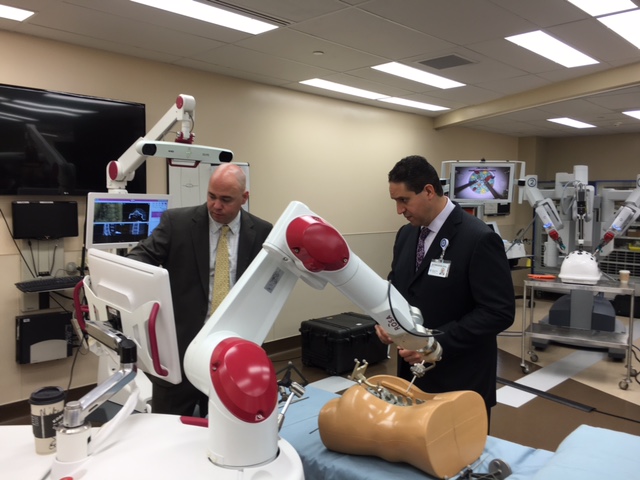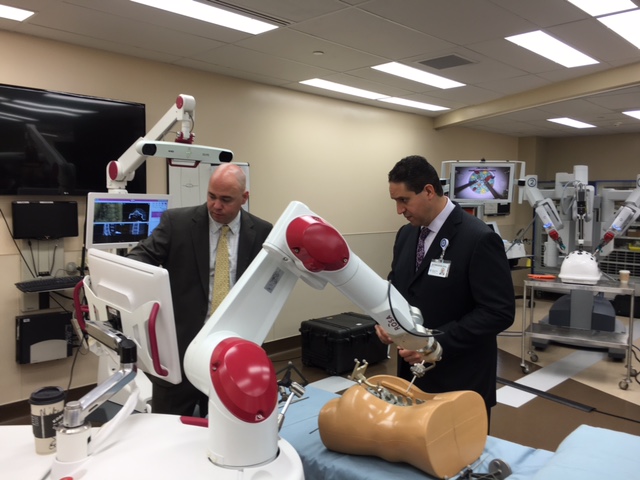 Premier Health officials gathered at Miami Valley Hospital on Thursday for a demonstration of the hospital's recently acquired ROSA Spine surgical robot, which can perform spinal fusion and other minimally invasive back surgeries more precisely with fewer postoperative complications.
The nation's first ROSA Spine patient was also on hand to tout the benefits of her robot-assisted spinal surgery, which was performed by Premier neurosurgeon, Dr. Juan Torres-Reveron, late last month at Miami Valley.
"I went straight home. No rehab. No complications. There was a little pain, but I had a lot more pain before the surgery," said Melody Rhoades of Versailles, who said she had a two-level spinal fusion to relieve pain in her legs.
The ROSA device uses a GPS-like mapping system to guide a robotic arm for precision and fineness in incisions and cutting, which allows patients to recover more quickly, according to Torres-Reveron.
"It optimizes the minimally invasive approach to spine surgery…and brings an unprecedented level of safety to spine surgery," he said.
The ROSA spine system — from the French company, MEDTECH, and generally priced at about $700,000 — has already seen substantial use in Europe, and the company's ROSA brain system has been used in the U.S. since 2012, including at Miami Valley in February.
The global surgical robot market is expected to reach $20.8 billion by 2024, according to a new study by Grand View Research, Inc., as an aging population continues to demand easier and less traumatic surgeries for chronic conditions.
Read More – Source: Miami Valley unveils spinal surgery robot | www.daytondailynews.com
By Randy Tucker
Begin your legacy now. We are your medtech and medical device talent advisory firm.