Medical device and MedTech insights, news, tips and more
MR-Guided Brain Ultrasound Helps Rouse Coma Patient Back to Consciousness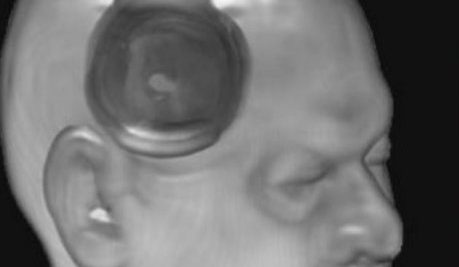 Neuroscience researchers and clinicians at UCLA have used MR-guided ultrasound to help rouse a recovering coma patient to a more alert state of consciousness.

They're not certain about the extent to which the novel therapy contributed to the good outcome, but they're sufficiently hopeful to have begun recruiting participants for a larger trial.
Martin Monti, PhD, and colleagues describe the potentially pivotal case in a letter to the editor of the journal Brain Stimulation.
The authors describe their first-in-man clinical trial testing the feasibility, safety and initial efficacy of what they're calling thalamic "LIFUP"—that's an acronym for low-intensity focused ultrasound in acute brain injury—in a 25-year-old male 19 days after he was hit by a car.
The patient had arrived at UCLA's Ronald Reagan Medical Center with severe brain injury and in a minimally conscious state, presenting a field Glasgow Coma Scale (GCS) of 3 and an emergency department GCS of 7.
Surgeons removed a section of skull to relieve pressure, then medically induced a comatose state to allow for healing. Over the next few weeks, attempts to wake the patient up proved only marginally successful.
On day 19, for the procedure, the team used a LIFUP device marketed by Brainsonix. This incorporates a spherical section ultrasound transducer.
They used a 3T MR scanner to finely target the thalamus, which plays a key role in regulating voluntary motor function as well as sleep, and administered 10 30-second sonications at 30-second intervals.
Three days post-LIFUP, the patient understood verbal commands and moved his head to answer Yes and No.
As described by the authors, this part of the patient's progress was consistent with what's often seen when brain-injury patients begin to awaken from a minimally conscious state.
Five days post-LIFUP, the patient tried to walk, and other post-LIFUP improvements suggest that the procedure was well tolerated and safe, they write.
"On the basis of results obtained in [an] animal model and in minimally conscious state patients undergoing neuromodulatory stimulations as well as pharmacological interventions, all of which are believed to act via modulation of cortico-striato-pallido-thalamo-cortical communication, the pattern of behavioral progression observed in the patient is exactly what would be expected of thalamic LIFUP," Monti et al. conclude.
At the same time, they acknowledge that they "currently cannot tell whether the observed effects are causally linked to the LIFUP sonication or whether the patient spontaneously, and serendipitously, emerged from a DOC. Further investigation will be needed to interpret the significance of this intriguing finding."
Hence the team's recruitment of participants for a related research project.
Source: MR-guided brain ultrasound helps rouse coma patient back to consciousness | Health Imaging
Photo Credit – University of California, Los Angeles
Begin your legacy now. We are your medtech and medical device talent advisory firm.