Medical device and MedTech insights, news, tips and more
Nanostructured sunscreen ingredient may prevent medical implant MRSA infections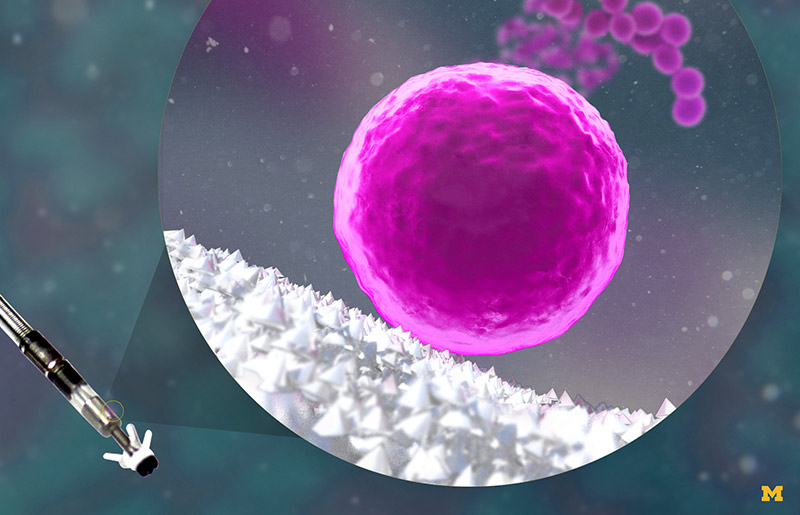 A common ingredient in sunscreen could be an effective antibacterial coating for medical implants such as joint replacements and pacemakers. Zinc oxide nanopyramids can disrupt methicillin-resistant Staphylococcus aureus (MRSA), reducing the film of bacteria growing on coated materials by over 95 percent.
About one million implanted medical devices are infected each year. "It is extremely difficult to treat these infections," said J. Scott VanEpps, a clinical lecturer and research fellow in the department of emergency medicine, whose team led the biological study.
He explained that treatment involves a long course of antibiotics, which can lead to antibiotic resistance or toxic side-effects. "Or the implants must be surgically replaced, which can be quite extensive for devices such as heart valves and prosthetic joints," he said.
Ideally, doctors would like to prevent the infections from occurring in the first place. One option is to coat the devices with something that bacteria can't grow on. The new results, published in the journal Nanomedicine, suggest that such a coating could be made from zinc oxide nanoparticles.
If the nanoparticles are shaped like a pyramid with a hexagonal base, they are very effective at preventing the enzyme beta-galactosidase from breaking down lactose into the smaller sugars glucose and galactose. Human cells also employ a beta-galactosidase enzyme to break down sugars for fuel, but they are not affected until a dose of nanopyramids roughly a thousand times higher than that needed to kill bacteria.
Shape is important, both for the enzymes and the nanoparticles. The enzymes need to be able to twist in order to break down the large sugar molecules. Two amino acids, or protein building blocks, sit opposite one another across a groove in the enzyme. The lactose fits into the groove, and the amino acids come together to catalyze the breakup into glucose and galactose.
Read More – Source: Nanostructured sunscreen ingredient may prevent medical implant MRSA infections | Michigan Engineering
From: Kate McAlpine – Michigan Engineering
Begin your legacy now. We are your medtech and medical device talent advisory firm.