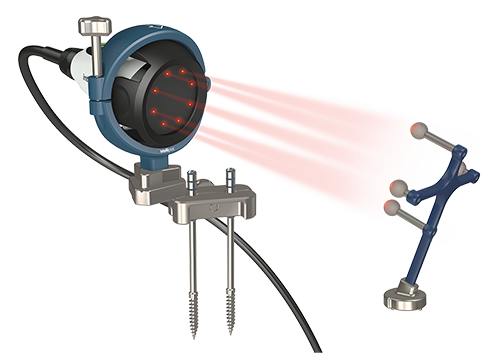 "Our goal is to go deeper into existing markets in New York and Chicago and expand into other markets," said CEO and co-founder, Armen Bakirtzian in a phone interview. "We are also releasing a product for the direct anterior approach to hip replacement surgery."
Intellijoint emerged from Bakirtzian's fourth-year engineering design project. His father, an orthopedic surgeon, wanted a device that could help him and his colleagues precisely position implants. Most surgeons do it by eye, and there can be post-surgical issues, such as improper leg lengths and dislocations. In some cases, further surgeries are required. Intellijoint HIP offers what appears to be a relatively simple solution.
"A miniature camera provides 3D information to surgeons in real time," said Bakirtzian. "As the surgeon is orienting the implant that goes into the pelvis, they have a readout that tells them what their angles of orientation are. They don't have to guess or use their intuition."
The device helps surgeons align the cup, which replaces the patient's socket, and can also help them choose the appropriate implant. Both of these factors play a major role in leg length, which can impact patients in several ways.
"If the patient's leg length is done the right way, it leads to fewer re-hospitalizations, fewer revisions, fewer issues of back pain, less physiotherapy and less medication," noted Bakirtzian.
Intellijoint points to a number of studies that highlight the importance of proper implant placement, as well as the device's performance in trials. However, they are not the only company in the arena. OrthAlign offers devices for knee and hip replacements and other procedures. Stryker's Mako robotic arm is also in the mix.
In addition, bundled payments could be a double-edged sword for Intellijoint, forcing hospitals to examine new technologies more closely before adopting them and adding the extra cost. On the other hand, reductions in re-hospitalizations and revision surgeries could generate enormous savings.
Intellijoint is making good progress in New York and Chicago. The device has been used for more than 500 surgeries and has been adopted by the Hospital for Special Surgery, the Hospital for Joint Diseases and other prominent facilities. The company also sees markets beyond hip replacement.
"It can be used for other orthopedic applications or even non-orthopedic applications," Bakirtzian said. "Cranial surgery, spine surgery – there's a host of applications better navigation brings value to."