Medical device and MedTech insights, news, tips and more
Say Hello to Your Body's Newest Organ: The Mesentery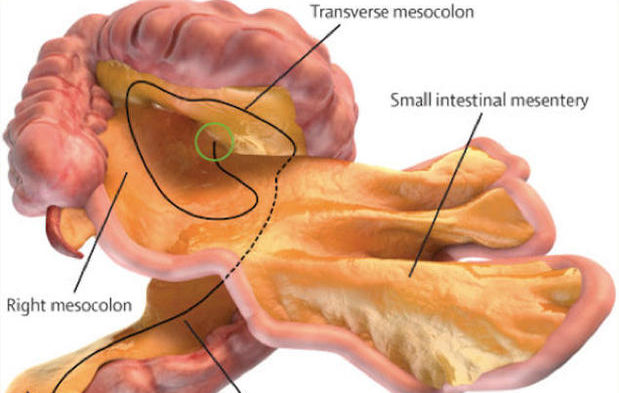 Over a century ago, when scientists were classifying the body's organs, one was short shrifted, according to researchers who say part of the digestive system deserves to be upgraded to organ status.
In a new medical journal report, scientists say the mesentery – connective tissue that winds around our digestive organs, holding them in place – isn't a fragmented structure as once thought, but actually one contiguous structure.
"The anatomic description that had been laid down over 100 years of anatomy was incorrect. This organ is far from fragmented and complex," said study author J. Calvin Coffey, from the University of Limerick, Ireland, in a press statement. "It is simply one continuous structure," winding from the small intestine down to the rectum.
Medically speaking, an organ is self-contained and has a very specific vital job – think brain, kidneys and heart. Many, but not all, organs have a distinct functional unit, the study authors wrote in the Lancet Gastroenterology & Hepatology journal.
But there are still many questions about how the mesentery functions. "The functional unit of the mesentery is unknown, and whether a distinctive cell type is primarily responsible for its functionality should be investigated," they said.
Dr. Kevin Campbell, assistant professor of medicine at the University of North Carolina, told CBS News that the mesentery has been hiding in plain sight for centuries. In fact, artist and inventor Leonardo da Vinci's (1452 – 1519) drawings suggest the structure's existence was known even then.
Author – MARY BROPHY MARCUS, CBS NEWS
Photo 1 Credit – THE LANCET GASTROENTEROLOGY & HEPATOLOGY COFFEY, JC ET AL. 2016 THE MESENTERY: STRUCTURE, FUNCTION, AND ROLE IN DISEASE.
Photo 2 Credit – ALAN PLACE, COURTESY OF THE UNIVERSITY OF LIMERICK, IRELAND
Begin your legacy now. We are your medtech and medical device talent advisory firm.