Surgical Robots of the Future Likely to be More Targeted & Provide Tangible Healthcare Benefits
Surgery and Surgical Robotics July 20, 2016
While robots have been in use since the 1960s, it is only 25 years since robotic technologies were first used to assist surgeons in improving surgical outcomes, providing such benefits as less trauma on the body, minimal scarring, and faster patient recovery times.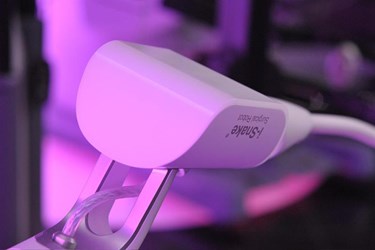 Among the first robots to be deployed were ROBODOC and Acrobot, developed for use in orthopaedic surgery. Acrobot was, in fact, the first robot to be developed with what is described as active constraint – this allowed surgeons to cut only within defined safe regions, preventing them from damaging surrounding tissue.
Another robot, the Probot, was designed to address prostate surgery and achieved a robotics first when it actively removed tissue from a patient in a clinical setting.
As robot technology has developed, numerous academic and research centres have been established and one of the most successful is the Hamlyn Centre for Robotic Surgery at Imperial College in London.
Established in 2008, the centre was set up by Professor Guang-Zhong Yang and Lord Ara Darzi with the long term aim of developing advanced minimally invasive surgical robots that combine intelligence, sensor rich technologies, as well as seamless human interaction with machines.
Professor Yang is also deputy chairman of the Institute of Global Health Innovation at Imperial College and holds a number of key academic positions at the university.
While modern surgery can effectively be traced back to the 1860s, Prof Yand says the Post War period saw the development of minimal invasive surgery, such as angioplasty and new technologies such as the development of the fibre-optic flexible endoscope. "This type of surgery is difficult to perform and requires the use of specific instruments that require dexterity to use properly. Robotic surgery was originally seen as helping to augment those basic invasive surgical skills."
Robotic surgery is defined as a type of minimally invasive surgery whereby patients are operated on using miniaturised surgical instruments that fit through small incisions in the body, usually no more than 6mm in diameter.
"The first generation of medical robots in the early 1990s was intended to improve the dexterity of surgeon. The main problem with keyhole surgical instruments is that access to the patient is, by its very nature, limited. So device pivoting and tissue contact is difficult to perform accurately.
Read Full Article – Source: Future surgical robots are likely to be smaller, cheaper, sensor rich and more targeted, providing real and tangible healthcare benefits.
Author: Neil Tyler
AUTHOR - Authorship Credit Noted Above
SHARE