This Year's Highest-Paying Jobs Dominate One Industry
Diagnostics & Healthcare News November 23, 2016
If your mother encouraged you to be a doctor when you were growing up, you probably should have taken her advice.  Medical doctors top this year's list of the 10 highest-paying jobs in the U.S. according to CareerCastOpens a New Window. The list ranked the annual median salary of various occupations and half of the jobs on this year's top 10 list came from the medical sector.
While doctors dominate the highest-paying list, reaching the top spot does not come without preparation.  An average physician in the U.S. spends about 14 years training for the job.  "You are obviously talking about very highly skilled fields and more importantly, you are going to have to get a lot of schooling for those jobs so you are going to have to put in a lot, to get a lot," says Kyle Kensing, online content editor at CareerCast.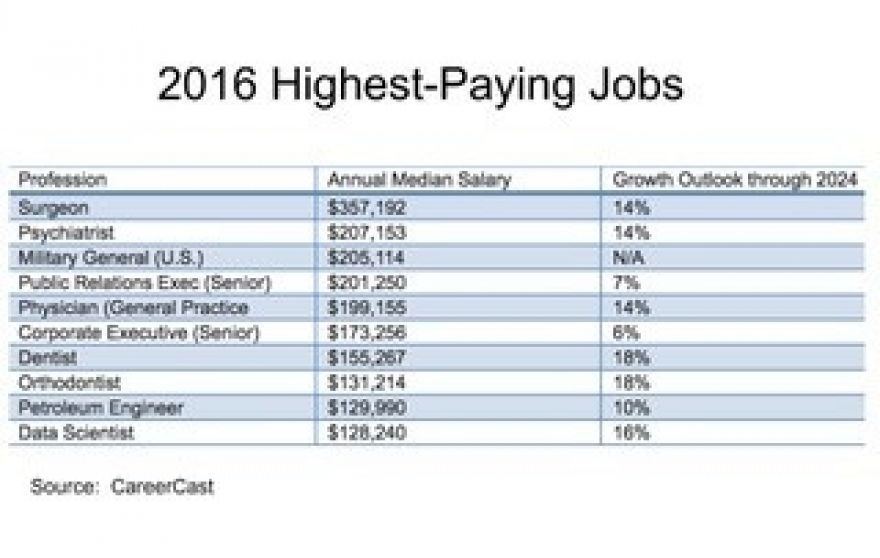 Surgeons Top the List
This year's number one highest-paying job is a surgeon, with an annual median salary of more than $357,000.  Within that group, neurosurgeons earn the most with a median salary of $589,500 a year according to CareerCast.  Orthopedic surgeons also rank among the highest earners, raking in $519,000 a year.   The annual median salary for a cardiologist is not too far behind at $512,000.
Kensing says becoming a surgeon requires a special skill set that not everyone has. "Something like surgery, it's high stress because you hold somebody's life in your hands and it's also a physically demanding job because you need the steadiness of hand-eye coordination," he says.
While many jobs in the medical sector pay well, Kensing says becoming a medical doctor pushes up salaries significantly.  For example, the median annual salary for a psychiatrist tops more than $207,000, making it the second highest-paying job this year.  A general practice physician is fifth on the list, earning more than $199,000 a year.  Meantime, other jobs in the medical field that are not considered medical doctors including psychologists and nurse practioners earn less than half of those annual salaries.
There are some jobs outside of the medical field that also rank among the highest-paying.  Military generals are third on this year's list, with a median annual salary of more than $205,000.  Senior public relations executives rank fifth, earning a median salary of more than $200,000 a year.  Senior corporate executives are sixth on this year's highest-paying list, earning a median salary north of $173,000 a year.
Read Full Article – Source: This Year's Highest-Paying Jobs Dominate One Industry | Fox Business
Author – 
Charts – CareerCast
AUTHOR - Authorship Credit Noted Above
SHARE