Medical device and MedTech insights, news, tips and more
TransEnterix, Inc. Announces First Sale of ALF-XⓇ Surgical Robotic System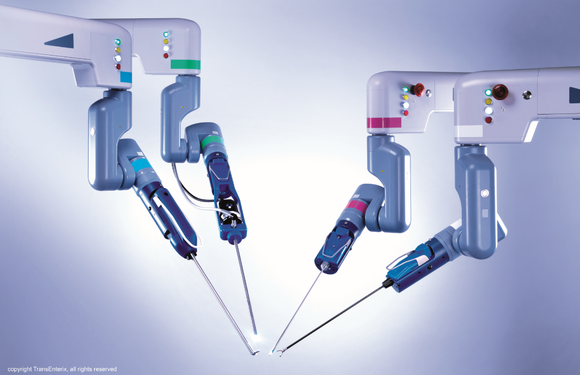 RESEARCH TRIANGLE PARK, N.C.–(BUSINESS WIRE)– TransEnterix, Inc. (NYSE MKT: TRXC), a medical device company that is pioneering the use of robotics to improve minimally invasive surgery, today announced the first global sale of its ALF-XⓇ Surgical Robotic System to Humanitas Hospital in Milan, Italy.
"We are pleased to announce the first global sale of our ALF-X System," said Todd M. Pope, President and CEO of TransEnterix. "Humanitas is an outstanding academic hospital with a respected multi-specialty surgical program. The ALF-X enables an enhanced surgical program through the use of advanced robotic technology with responsible procedural economics."
"The initiation of sales of ALF-X represents an important milestone towards realizing our vision to transform surgical robotics," continued Mr. Pope. "We have made substantial progress building out our global commercial, distribution and service capabilities throughout 2016."
The ALF-X System is CE Marked and is indicated for use in general surgery, gynecology, urology and thoracic surgery. We are actively preparing a submission for U.S. FDA Clearance for the ALF-X System.
About Humanitas
Humanitas is a highly specialized research and teaching hospital partnered with Humanitas University Medical School. Humanitas University trains globally-oriented healthcare professionals through state-of-the-art interactive teaching methods and close integration with their clinical and research community. Humanitas believes that it is essential to unite organizational efficiency and clinical quality. For this reason, it was the first Italian general hospital and one of the few in Europe, to be certified for quality by the International Joint Commission.
About TransEnterix
TransEnterix is a medical device company that is pioneering the use of robotics to improve minimally invasive surgery by addressing the clinical and economic challenges associated with current laparoscopic and robotic options. The company is focused on the commercialization of the ALF-X Surgical Robotic System, a multi-port robotic system that brings the advantages of robotic surgery to patients while enabling surgeons with innovative technology such as haptic feedback and eye sensing camera control. The company is also developing the SurgiBot™ System, a single-port, robotically enhanced laparoscopic surgical platform. The ALF-X Surgical System has been granted a CE Mark but is not available for sale in the US. For more information, visit the TransEnterix website at www.transenterix.com.
Read Full Article – Source: TransEnterix, Inc. Announces First Sale of ALF-XⓇ Surgical Robotic System
Begin your legacy now. We are your medtech and medical device talent advisory firm.