Tyber Medical Claims Bactria Decline on Implants
Orthopedics and Spine April 8, 2016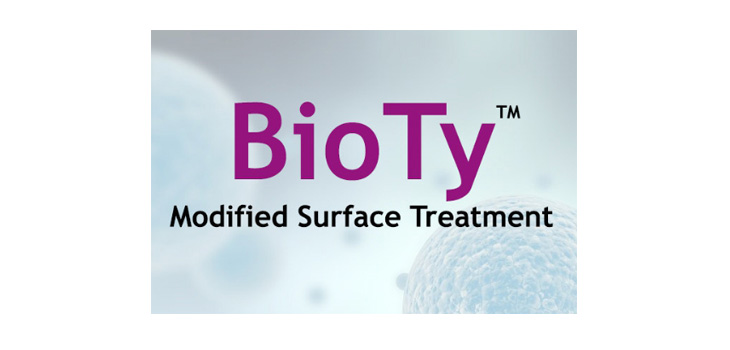 Tyber Medical, LLC, a privately held medical device company located in Morristown, New Jersey, announces that research ongoing at Northeastern University, Chicago, demonstrate a statistically significant reduction in bacteria on implant surfaces processed with the firm's BioTy, a Modified Surface Treatment.
The research performed at Thomas J. Webster, Ph.D.'s Nanomedicine Lab at Northeastern University establishes that BioTy resulted in a statistically significant reduction of Staphylococcus aureus, Pseudomonas aeruginosa, and antibiotic resistant E. coli without the use of pharmacological agents.
An estimated $9.8 billion is spent each year treating hospital-acquired infections of which surgical site infections represented the largest source of infection. The source of infection begins with bacteria introduced intraoperatively, or in some instances post-operatively, and subsequently colonizing the surface of medical devices to form a highly antibiotic resistant biofilm.
Webster notes that the current treatment of surgical site infection requires an infected patient to undergo a rigorous treatment with antibiotics, and in some instances, multiple surgical procedures to eliminate the infection.
He said, "We have shown, for the first time, that nano-scale surface features alone can reduce implant infection without resorting to the use of antibiotics, which has clearly been shown over the past decade to be a failed attempt to eradicate implant infections. The process we are developing with Tyber Medical is destined to revolutionize the medical device field."
Webster continued, "Our research has shown that this versatile surface treatment process alters surface energy to eliminate gram negative, gram positive and even antibiotic resistant bacteria while promoting bone cell functions. It does not employ pharmaceutical agents which can have adverse effects in the body but rather the surface is re-engineered to possess such promising properties."
Read More – Source: Tyber Medical Claims Bactria Decline on Implants | Orthopedics This Week
Biloine W. Young • Wed, March 9th, 2016
AUTHOR - Authorship Credit Noted Above
SHARE