VerteCore Offers Chiropractors a Peer-Reviewed Spine Decompression Medical Device
Orthopedics and Spine March 30, 2016
LOS ANGELES, CA–(Marketwired – Mar 21, 2016) – VerteCore Technologies (http://vertecore.com) announced a new program for Chiropractors that will allow them to lease affordable, mobile spinal decompression units that will augment scheduled chiropractic adjustment procedures. The VerteCore Lift™ can be used in a clinical setting that allows Chiropractors to offer spinal decompression in a very compact office setting that was not previously available with the large spinal decompression tables that cost $125,000 or more to install and required a very large footprint.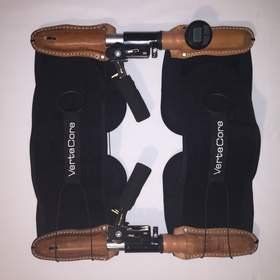 The clinical version of the Lift sells for only $1,199, which makes it the most affordable spinal decompression medical technology product on the orthopedic marketplace, and multiple units can be stored in a single small cabinet.
Chiropractors can prescribe the VerteCore Lift as in-office treatment or offer it as an at-home-use solution that back pain patients can wear 20-to-30 minutes per visit/day to allow the spine to be stretched out, which allows blood, nutrients and the body's natural healing processes to flow through the spine uninhibited to help the body repair itself by rehydrating and resorption of the herniated discs, which relieves the pressure on pinched nerves that cause most types of back-pain-related disorders.
During the VerteCore Lift's med-tech's product development process a number of medical doctors and pain management specialists have peer-reviewed the compact spinal decompression device and provided not only positive customer testimonials, but have made personal investments in the company in order to introduce the VerteCore "Lift" to the $57 billion Orthopedic medical device marketplace.
Read More – Source: VerteCore Offers Chiropractors a Peer-Reviewed Spine Decompression Medical Device They Can Prescribe to Treat Herniated Discs, Degenerative Disc Disease, Scoliosis, Sciatica and Back Pain
AUTHOR - Authorship Credit Noted Above
SHARE